"It is not enough to be nice; you have to be good. We are attracted by nice people; but only on the assumption that their niceness is a sign of goodness." — Roger Scruton
A Note From International Arts Movement
Most of my life has been characterized by rhythm. From the schedule of my days that repeat week after week, to various forms of liturgy that I grew up with, I've learned many of these rhythms by heart. The rhythm I've come to love most is singing the doxology, a sweet and poignant four-line hymn that the Church has sung for centuries. It's traditionally sung a cappella – no instruments, just voices mingling together in praise.
I grew up singing the doxology in the context of community. On Sunday mornings, sitting in a pew with my family, I sang it with the rest of my childhood congregation. Now, I see it with my own church. Slowly but surely, the doxology has become the soundtrack to my life. Each time I sing each familiar note, my hearts feels at home.
The rhythms of our lives are what shape us. Our culture is obsessed with them. You may not sing the doxology, but there is probably something else. A moment, a talisman, that fills the void when things are going wrong and you find yourself searching for something steady. Rhythms are like guideposts, giving us reliable strongholds between the raging winds and piercing storms. As they develop, we find ourselves sharing them with others, forming a unique community bound together in a simple moment of habit or practice.
The practice of singing the doxology has shaped me into the person I am today. It's a song that has drawn me into praise and worship and given me a deeper understanding of who God is. Throughout countless moments recently, when I've felt worn out or run down, I've hummed the doxology to myself over and over, letting the words roll through my mind, reminding me to trust. On the days when I have been too exhausted to move, when the to-do list feels endless, the plans shift, and the margin I long for seems far out of reach, I ground myself in those age-old words. The doxology has taught me the rhythm of looking out and looking up, helping to point me toward truth and goodness and beauty in the midst of pain and despair.
A Note from Makoto Fujimura, Culture Care Initiative Director
The Irishman and A Beautiful Day in the Neighborhood
I write this not as a critic of films and what I am about to write is not a ​"review". For a movie review, you can look up our wonderful friend and colleague Alissa Wilkinson's reviews on Vox. I write here of experiences that lead to Culture Care. These experiences are not quantifiable; but they are nevertheless real, they are about the mystery of making.
I was invited by Marty (Scorsese) to view the film The Irishman in his private screening room (it turns out this is where he edits) on 57th Street in New York City a day after Thanksgiving. I brought a few friends and experienced this remarkable film. I told my guests that the film is about three and a half hours, so be ready for that, as perhaps an apology of sorts.
When the film ended, I turned to my friends and said, ​"That was over three hours?"
The Irishman is a tale told, literally through Robert De Niro's subtle facial expressions. From the moment it opens, I ​"fell in" to that story, told through his iconic face. But his face gets turned into a journey for the ages (literally), particularly due to the technology that was developed on the set of ​"Silence" that allows actors to become twenty something again. Thelma Schoonmaker told us about that process, as she greeted us after the film. If you want to meet a person who knows Marty, Thelma is the person to speak to as she has edited most of his films. She worked by his side in the very room we were in with Marty, and filled us in on the behind the scenes stories after we viewed the film ​"It was Ang Lee's technical staff that heard Marty complain of the current bulky technology that they use to do a CG technology on an actor's face…and they went to work, on the spot". Last time I met with Marty, after Silence had come out, he was already at work on The Irishman, and shared his excitement with me. ​"Now, Bob does not have to feel like the device is on his face…they are (the CG devices) like bandaids."
So the entire film, you can just focus on De Niro's face. Entire three and twenty nine minutes. And you fall into a mystery of film making.
Thelma told us that this was the first film that she has worked on in which the production company did not ask ​"how long is the film going to be?" Or require them to make a film under a certain time frame. The company was Netflix, and perhaps because of the success of ​"Roma", they decided that it's better to let a genius like Marty just do his thing. As an editor working with Marty, Thelma was delighted, because her job now was not to cut to make the story work in a limited time that the film studio wanted, but do justice to the actors and the directors desire to tell the story.
Generosity to trust a veteran artist can create magic; scarcity mindset cannot create great art, even if the movie sells better if it is below two hours because of our attention spans. We lose the subtlety of the craft of film, or of cinema as Marty likes to say. ​"Most of the important scenes in the movie required only one take," Thelma told us, ​"because Marty trusted them to bring the scene to life." So the freedom the director received was in turn an amplified trust for the actors, where the veteran actors were freed up to try things by instinct. At the premiere of Silence in Los Angeles, Issey Ogata, whose portrayal of Inoue is beyond memorable, told me that he has never been given such freedom in acting. De Niro, Pacino, and yes, Pesci (so wonderful) were given wings, in their already accomplished careers to fly, and boy they do.
There is a scene in a Howard Johnson restaurant where Pesci and De Niro, simply speak of which cereal De Niro want. But that choice, was not really about the cereal, but about a job that De Niro character will have to accept that shapes the arc of his life, his estrangement from his family, and the damnation of his own soul. No word is spoken, just awkward silence that forces you to read the actor's faces; and the entire generation, traumatized by the war, beset by violence and power, still trying to prove and justify their existence to the world, is revealed and exposed.
Or a sacred scene in which De Niro and Pesci characters share a bread dipped in wine. Pesci, Thelma said, removed his dentures for this scene; something so out of character for Pesci that even Marty was shocked.
——
I went to see A Beautiful Day in the Neighborhood with my daughter in LA. It was a beautiful day, as we walked the splendid grounds of the Huntington Library together hours before. She asked if I had seen Mister Roger's film; I had not.
Mister Rogers and I have had a complicated relationship. I never had the opportunity to fall into his programming as I struggled with English and even a children's program (which I was a little too old to see, even though they would have been the perfect thing for me to learn English), I was cynical of his smiles and children's programming. But it was when he spoke after 9⁄11 that I finally heard his voice. And when I was sworn in to the duties of National Council on the Arts, I went back in the history of the National Endowment of the Arts. Of course standing between the Senate's effort to reduce the Endowment lead by Senator Pastore and PBS was Mister Rogers. This six minutes became one of the iconic voices of reason for then Council members to defend arts funding in the age of Culture Wars. I would say that if the tide to reduce the funding born of the scarcity mindset of Vietnam war, was not abated due to Mister Rogers's passionate defense of PBS, then we certainly we, a decade later, may not have had the chance, and privilege, to fight against defunding the arts programming in the early 2000's at the height of Culture Wars. Mister Rogers stood in the firing lines of culture, and gave us, quite possibly, Downton Abbey and David Brooks. Yes, my recent appearance in the American Masters' program on Rothko, would not be possible either.
So I went into the film favorably predisposed. But the moment Tom Hanks came on the scene with the ​"putting on the cardigan sweater" scene, I had a problem.
I could not fall into the story. Tom Hanks is too, well, Tom Hanks, no matter how good his acting is (and it is). Lydia, my daughter, did not have that problem.
But what happened during the film is, I think, nothing short of the miraculous, Culture Care moment.
As the film unrolled the story of a cynical reporter who wanted to write an expose of the ​"true Mister Rogers", who ended up writing a piece for Esquire that will remain for ages as the most tenderhearted expose ever written, the film did something no other film, or possibly art form has done.
I fell into myself.
There is a scene in which, he stops, before a meal at a Chinese restaurant, he asks the reporter to stop in silence and join him in thanking all who loved us. This gesture of gratitude is amplified in the film (experience this for yourself, as this moment is the greatest moment in any film you will see this year) intentionally by the film makers and Tom Hanks. This is the altar call made by Mister Rogers in many ways, even on the stage to receive an Emmy, he, dead serious, called all to pause and reflect in gratitude. If there ever was a Culture Care moment in a film, this is it, and then I realized that I cannot see this film from the perspective of a cynical critic trying to poke holes into the film as a critic. I simply has to receive as grace ("charis" one of Fred Roger's favorite Greek word) as given to me.
Tom Hanks, as I was, was known to be involved in a para-church organization called Campus Crusade for Christ in college. He talks of his effort to evangelize using a ​"little yellow book" called ​"The Four Spiritual Laws". This movie, I realized as I was leaving the theatre, was Tom Hanks way to invite people to receive grace; what the film did was to turn evangelism into cultural formation. In fact, that is what Mister Roger did successfully, over and over every week in WQED in Pittsburgh, as a minister, and evangelize of grace, to pastor entire generations of children, and us.
We have become so cynical as we have grown up in Culture Wars, and the vast chasms of the institution we have trusted and reality of abuse and racism has taken toll. We do not go into theatres to watch a three and a half hour masterpiece, or about a nice guy in a neighborhood. The Alhambra movie theatre where Lydia and I saw the movie was literally empty on a Wed matinee. So my experience above is certainly not a universal phenomenon.
But they are still true. They are the ​"pinholes" in which we can see God's grace projected, the illuminations of the ​"Slow Art" moving into our dark days; and they are Culture Care moments to cherish, to reflect on, to receive.
What is ironic is that The Irishman is all about violence and death: A Beautiful Day in the Neighborhood is all about love and life. But It's Mister Rogers who speaks to, addresses death and darkness more. It's Robert De Niro's subtle face expressions that hides life and love, thereby illuminating them. For me, as I've faced many ​"deaths" in my own life in the last three years, I navigate in between the liminal spaces, an ever-border-stalker carrying my moments of gratitude into the unknown

Blessings,
Mako
Notes From the Road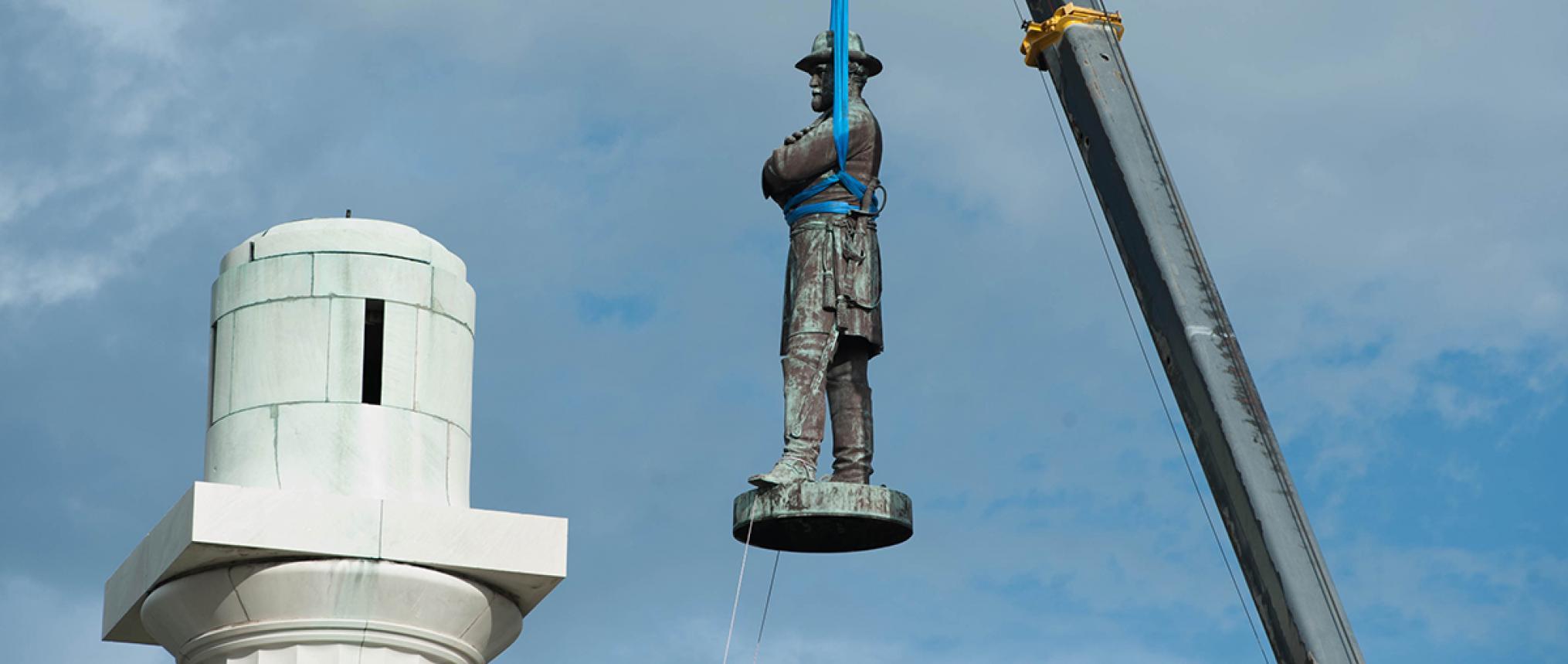 Pete Candler is a writer in Asheville, North Carolina. His current project is a literary-photographic quest along the backroads of southern and personal history in search of the stories that shape us more than we thought. Read and see more at adeep​er​south​.com
Don't look away: this is about as beautiful as America looks from the interstate. Don't look away, because the sight won't last long.
Just past the Dysartsville Road overpass at Exit 94 on westbound Interstate 40 near Morganton, North Carolina, the Blue Ridge Mountains arise quickly — a massive hulking wall of tree-tufted granite, sedimentary limestone, and volcanic rock. The range ambles north like the shadow trail of some hunch-backed giant. If you stare at it the way you want to, you risk veering off the winding road and ending up in the eastbound lane. From the crest of the hill, you get a sense of the size of these mountains — the tallest ones east of the Rockies, a majestic and ancient ecosystem of extraordinary biodiversity. You can get lost in the spectacle — so long as you are not distracted by the gigantic 20-foot-by-30-foot Confederate flag.
Read the rest of this piece here.
Web Links
How Little Women forces us to reckon with the truth inside of us.
The politics of winning an Oscar.
Our own contributor, Pete Candler, has a new podcast. Listen to A Deeper South here.
The best books of the year.
The tribes that bind us together or tear us apart.
What it looks like to review a book, from start to finish.
---
Header Image: Wassily Kandinsky; Yellow, Red, Blue, 1925