"It takes a tough mind and a tender heart to hold onto hope." — Dr. Raphael Warnock
A Note From International Arts Movement
Most of my life has been characterized by rhythm. From the schedule of my days that repeat week after week, to various forms of liturgy that I grew up with, I've learned many of these rhythms by heart. The rhythm I've come to love most is singing the doxology, a sweet and poignant four-line hymn that the Church has sung for centuries. It's traditionally sung a cappella – no instruments, just voices mingling together in praise.
I grew up singing the doxology in the context of community. On Sunday mornings, sitting in a pew with my family, I sang it with the rest of my childhood congregation. Now, I see it with my own church. Slowly but surely, the doxology has become the soundtrack to my life. Each time I sing each familiar note, my hearts feels at home.
The rhythms of our lives are what shape us. Our culture is obsessed with them. You may not sing the doxology, but there is probably something else. A moment, a talisman, that fills the void when things are going wrong and you find yourself searching for something steady. Rhythms are like guideposts, giving us reliable strongholds between the raging winds and piercing storms. As they develop, we find ourselves sharing them with others, forming a unique community bound together in a simple moment of habit or practice.
The practice of singing the doxology has shaped me into the person I am today. It's a song that has drawn me into praise and worship and given me a deeper understanding of who God is. Throughout countless moments recently, when I've felt worn out or run down, I've hummed the doxology to myself over and over, letting the words roll through my mind, reminding me to trust. On the days when I have been too exhausted to move, when the to-do list feels endless, the plans shift, and the margin I long for seems far out of reach, I ground myself in those age-old words. The doxology has taught me the rhythm of looking out and looking up, helping to point me toward truth and goodness and beauty in the midst of pain and despair.
A Note from Makoto Fujimura, Founder of IAM Culture Care
With our connection to Kintsugi master Kunio Nakamura, Kintsugi workshops began in 2019, in Nashville, New York City and Princeton, then continued to Sundance and Los Angeles in 2020. These were pilot programs to test certain segments of audience and results, as well as identify future leaders that can lead Kintsugi workshops, and I am happy to say that Master Nakamura's impact to collaborate to create our Kintsugi Academy in these communities will be a major effort moving forward Culture Care goals.
Every workshop felt remarkably different, but in all of the workshops, we experienced something miraculous — a community began to form among strangers, who moved away from ​"fixing" mentality to ​"mending to make New" mentality. These generative moments resulted in tangible friendships… all in two and a half hours.
How could that happen? All it took was one person to begin to share the connection between the Kintsugi method and their current life conditions.That gave permission for others to be vulnerable, leading to a birth to an authentic sharing.
What will make these experiences special is not just the technique of learning Kintsugi technique; what makes these experiences enduring is values of Culture Care. Master Nakamura will return to US in June-July, and we will hold Kintsugi workshops in Los Angeles, New York and London and Oxford (mid July). We will be updating you through Twitter and Instagram (@acadekykintsugi). Let us know if you are interested in participating

Blessings,
Mako
Notes From the Road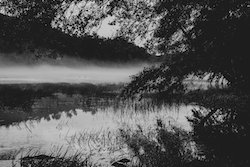 Pete Candler is a writer in Asheville, North Carolina. His current project is a literary-photographic quest along the backroads of southern and personal history in search of the stories that shape us more than we thought. Read and see more at adeep​er​south​.com
When we set out on Tour Seven in July of 2019, we knew where we would end up, but not exactly how we would get there. The last stop before Atlanta was one of the few definite points on the itinerary: the intersection of Roscoe and Jackson Roads in Newnan, thirty-eight miles southwest of Atlanta. Somewhere near that crossroads was the site of an episode that marked a turning point in both the southern tours and my own self-understanding. The area near that intersection was once called Troutman's Field, and on April 23, 1899, before a crowd of thousands, many of whom traveled on a specially-commissioned train from Atlanta, Sam Hose was lynched.
The details of the case are notorious, gruesome, and horrifying. And what I didn't know about Sam Hose came to overshadow much of what has happened since I learned about him, and how my family was connected to this dark episode of local and national history. I think John and I both had a sense that we wouldn't find much in the way of a memorial to that event at the corner of Roscoe and Jackson. But we were less prepared to find in our second stop north of Atlanta a completely unexpected confluence of forces that were touched by Sam Hose's lynching, in a stately Victorian home at 224 West Cherokee Avenue in Cartersville.

Read the rest of this piece here.
Web Links
How Little Women forces us to reckon with the truth inside of us.
The politics of winning an Oscar.
Our own contributor, Pete Candler, has a new podcast. Listen to A Deeper South here.
The best books of the year.
The tribes that bind us together or tear us apart.
What it looks like to review a book, from start to finish.
---
Header Image: Mary Leone Duffy; ​"Laurence", 2019, oil on canvas.