"I abhor the idea of a perfect world. It would bore me to tears." — Shelby Foote
A Note From International Arts Movement
I've talked about this in this newsletter before, but during Covid, I became a walker. Before the pandemic, I ran several times a week, sometimes long distances, sometimes shorter ones. I ran alone and with friends, sometimes for the company, but mostly to clear my mind. I found that running, the combination of the physical exertion and the post-running eventual exhaustion, helped to regulate my often hyper-active, hyper-anxious mind.
Speed was never my speciality, and I didn't run for time or pace. But, like many of you, I was forced to slow down, way down, in March of 2020. I suddenly found the pace of my days were haltingly slow. I didn't have a routine. I wasn't going into an office. So, I started walking. All over the place. I walked all the streets surrounding my childhood home. Long walks and short walks. Much like running, I followed my footsteps and tried my best to settle my mind.
Three years later, I still try to walk every day. Among my friends, I've become the person who often suggests we ​"just walk because it probably isn't that far." (Reader, it is often farther than I think it is.) I love nothing more than a long walk, sometimes with a friend, sometimes with a podcast, sometimes in silence. In the morning or the afternoon or the evening.

Walking is meditative for me. I'm past the exploratory phase. I know all of my favorite routes in the neighborhood and although I still delighted by certain things I see, I am rarely surprised. Retracing the same routes day after day gives me a sense of familiarity and control in a world that is often uncontrollable and has very little routine. Walking has taught me that retracing my steps, no matter how many times, often reveals valuable lessons. I see things I've before and learn new things about familiar places and faces.
The paths we walk in life are often paved with the familiar… most of us, if we are lucky, are not faced with monumental transitions on a daily basis. Instead, we're plagued the mundane, the ordinary, the familiar. We find ourselves bored and uninspired, when all we have to do is slow down and walk: to a familiar place, perhaps with a familiar face by our side, and open our eyes in order to notice something that has been sitting there all along.
A Note From Makoto Fujimura, Founder of IAM Culture Care
Dear Culture Care Movement

Like many, my heart is numbed and pained by recent unending (as it seems) news of gun violence. Trinity Forum had scheduled an event at Nashville, a conversation with poet Dana Gioia called ​"Can Beauty Save the World?" a week after the Covenant school shooting. We decided to commit to continue the conversation even in the raw numbness of such loss.
You can get the video here (Trinity link) of the remarkable conversation in the midst of suffering. In fact, the Principal of Covenant, Katherine Koonce, had signed up for the event and many in the audience were directly impacted by the shooting including my friend Sandra McCracken (read her reflection in Christianity Today here).
Beauty in a suffering world seem superfluous and even cruel. I speak of this many years ago for a first Commencement Address at Belhaven University. Art, though, seem to create a portal of how we may see through the Ground Zero ruins of our lives. History is replete with works that flow straight out of front line experiences (J.R. Tolkien, C.S. Lewis, Hemingway, J.D. Salinger, etc. etc.).
We find ourselves today, as I write this, in Colorado, and I am scheduled to speak at a church connected with Columbine High School. In the numbness of many triggering events, I will speak on the passage in 2 Corinthians ​"In Christ, we are a New Creation". In our post Easter journey, we are reminded of Christ's glorified body in which his wounds are still present — and it is ​"through His wounds we are healed" (Isaiah 53:5).
May our art and our lives be marked by post Resurrection wounds of our own, and may we endeavor to create the Beautiful, even as we stand on the ashes of Ground Zero.
Yours for Culture Care,
Mako Fujimura
Guest Essay: Reflection on Perfection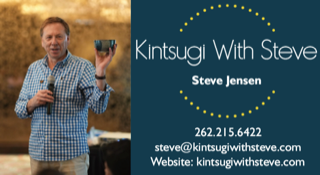 By Steve Jensen
"What is perfection anyway…It's the death of creativity."
That quote attributed to actress Diane Keaton was on full display at a recent Kintsugi Experience I conducted. One of the participants voiced a running commentary as she worked on her broken cup:
"I don't think I can get these two pieces together."
"I don't think the glue is going to stay."
And finally, ​"Maybe I should have had a different one to mend."
What was ​"killing" her creative process was the innate drive we can feel at times to be perfect, to never do anything wrong, to be absolutely correct and precise…even at the expense of doing what needs to be done. Or at the expense of others around us. ​"Perfectionists take great pains…and give them to everyone else," as the joke goes.
In the case of this participant, it took multiple encouragements to help her complete the very imperfect process with a very broken cup all the way to the end. And when she finally put on the last bit of golden urushi, she saw just how beautiful it was. The treasured cup that a friend had given her was now more valuable to her than before.
I sometimes approach my day…my life…with the same drive to be perfect. But my weakness seems to catch up with me so often and I have to be reminded that perfection is something only one person has ever achieved. And that the process of my life being perfected is just that…a process. It's a process of my brokenness being mended and healed over a lifetime until it finally conforms to the image of the One who called me his own.